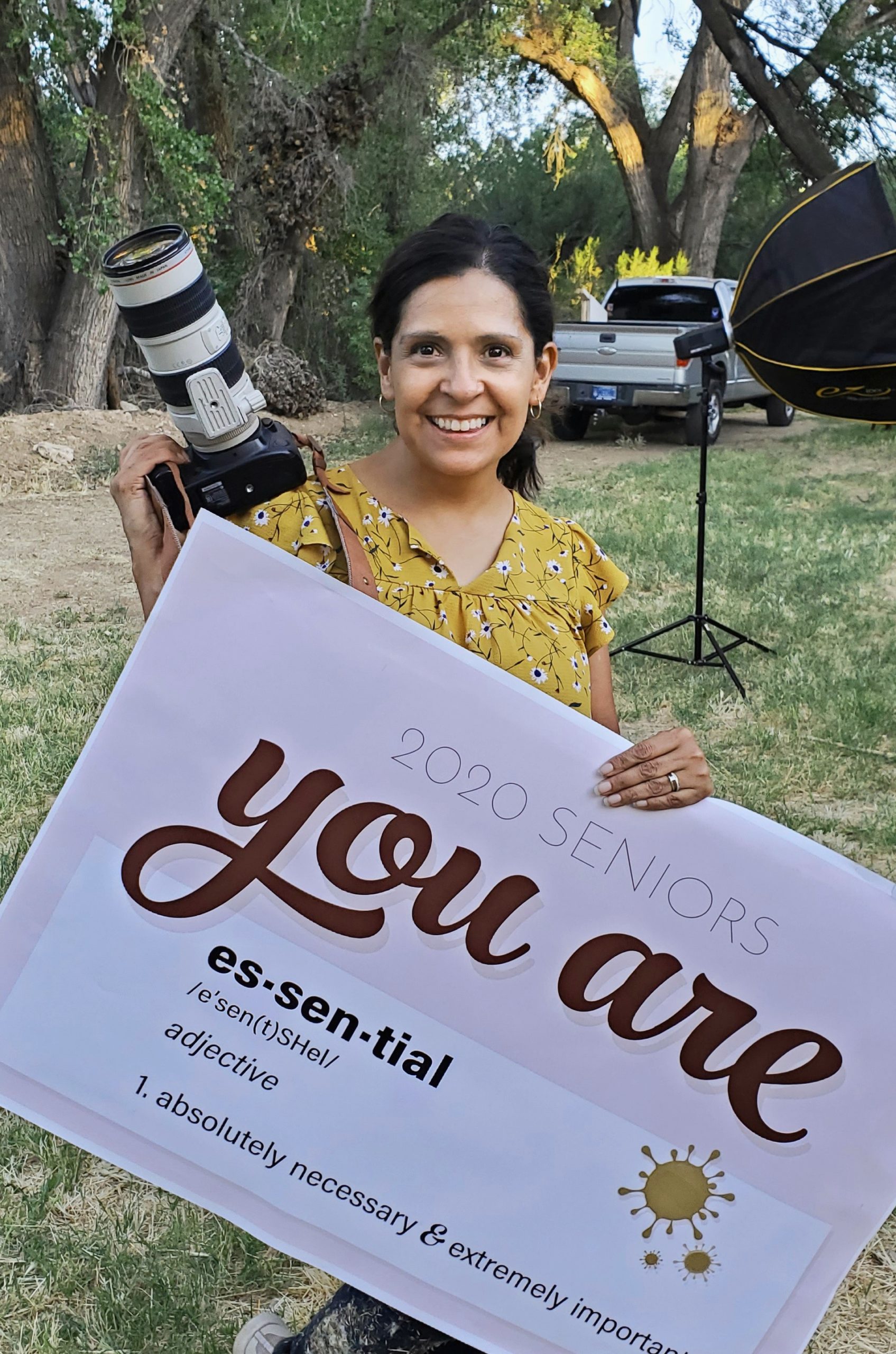 As the summer winds on, we're so proud of our YOTO Family for continuing to support YOTO youth during the COVID-19 outbreak. One member of our family – Reyna Peery – even found a creative way to fundraise for YOTO students while simultaneously providing lasting memories for other high school seniors!
Reyna is a local photographer who specializes in senior graduate portraits AND a proud member of the YOTO Family. Prior to COVID-19, Reyna volunteered to photograph YOTO's 2020 graduates. Unfortunately, the virus forced the cancellation of the spring photo shoots. Still wanting to help YOTO students, Reyna saw an opportunity to do some good for other new grads while also supporting YOTO seniors. She recruited a group of local photographers and offered their collective services to high school seniors in the community. Each student who registered would get two digital files from each of the 15 photographers in exchange for donating $25.00 and a pair of socks to YOTO. They called this event Essential '20.
To maintain social distancing the day of the event, Reyna explained, they spaced out the students' time slots and asked everyone to respect the six feet distancing rule.
"The students rotated between 15 photographers every 5 minutes on a large, beautiful desert location. In the end, each student had a fun day full of wonderful memories and a bundle of unique images from each photographer!  Most of the students didn't know what to expect upon arriving at the property. The event was well organized, so after they waited to sign in, every station was clearly marked and set up in a fun, youthful way. We also had a DJ, a photobooth, and three large camper trailers set up as backdrops by a local Airstream company."
Altogether, Essential '20 collected over $1,500.00 in donations and more than 200 pairs of socks for YOTO students. Fantastic work, Reyna!
Reyna wanted to share these words of advice to the graduating class of 2020: "Focus on what you are passionate about. Learn about it, cultivate it, be confident in it, and sell it. Remember to embrace the rejections in life and don't let them define you."
YOTO would like to thank Reyna and all of the photographers who volunteered their skills and provided graduating seniors with a memorable photo shoot experience! We would also like to thank all the high school seniors who participated in the photo sessions and donated to YOTO youth! We're all going through these difficult times together, and we appreciate all you have done and are doing to support our YOTO youth!