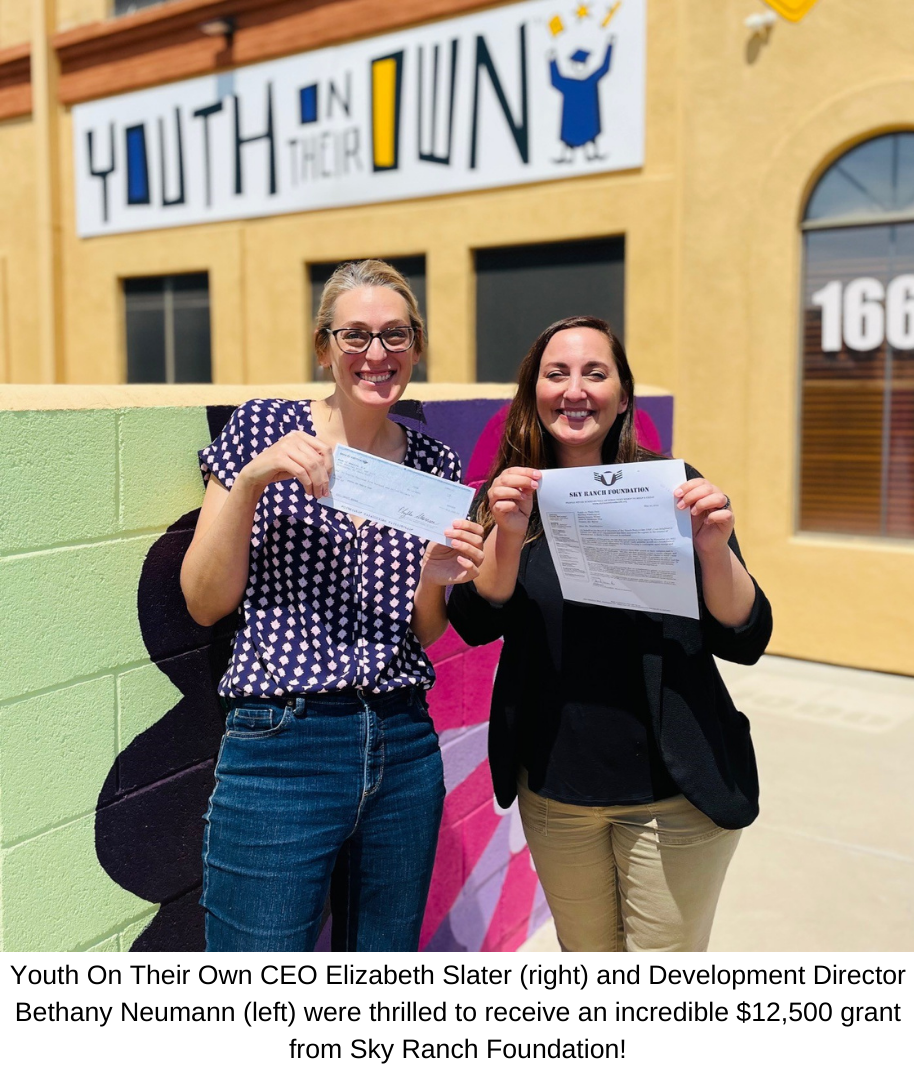 This summer, Sky Ranch Foundation, a charitable organization that strives to give underserved youth a second chance, joined the YOTO Family with a generous $12,500 grant supporting local youth experiencing homelessness! This grant has already provided much-needed support to 27 students enrolled in YOTO's program, including a monthly academic stipend and COVID-19 supplement, bill assistance, as well as basic needs items (food, toiletries, and household items) from YOTO's Mini Mall. High school graduate Wyatt explains what the commitment of organizations like Sky Ranch Foundation meant to him when he was a YOTO student:
"I'm so grateful that there was an organization in my community to support me during some of the toughest years of my life. Their assistance was encouragement enough to continue to work hard through school."
Founded over 60 years ago, Sky Ranch Foundation seeks to provide funding to efficient and effective nonprofit organizations that provide youth a second chance at success. YOTO is so honored and proud to be among this year's program winners!
According to Dori Bryant, Director of Partnership Development, Sky Ranch Foundation originally operated as a working ranch property in South Dakota as Sky Ranch for Boys. At any given time, the ranch supported approximately 40 male students from the juvenile court system. After living on the Ranch, Dori explained, these young people transitioned to Sky Ranch Behavioral Services in Sioux City, Iowa, where they received the support and encouragement they needed to be successful. While this program had an amazing 90% success rate, it was costly to run. The folks at Sky Ranch thought that their funding would be better spent investing in existing organizations who already have the capacity to help young people in their communities. In 2011, the ranch was sold and the proceeds were invested in the foundation, allowing Sky Ranch Foundation to award grants to nonprofits supporting underserved youth across the country.
Those who work with the foundation are very proud of the impact they make. According to Dori:
"Through the years we have seen success story after success story.  We often hear from students who either passed through the Ranch or who were helped by an organization to which we awarded a grant.  What can I say?  It's heart-warming to know you have made—are still making—a difference."
Sky Ranch Foundation and YOTO share a commitment to helping today's youth on their journeys to become successful adults with bright futures. Everyone at YOTO is so grateful for the support the Sky Ranch Foundation has provided, allowing us to continue to help students like Wyatt. Thank you, Sky Ranch Foundation, for believing in YOTO youth and championing their success!